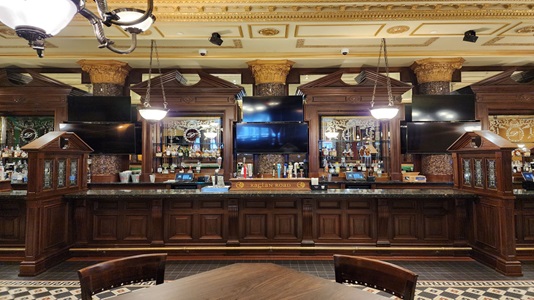 KC Hooley House NOW Open in Power & Light District
KANSAS CITY, MO. (March 14, 2023)—
The Kansas City Power & Light District announced today that KC Hooley House has officially opened. Locally owned and operated, the new restaurant reimagines a traditional Irish pub. The 9,774-square-foot space, located at 170 E. 14th Street, offers elevated eats, handcrafted cocktails, and in-house entertainment.
Their made-from-scratch kitchen leans heavily on locally sourced ingredients. With a fresh take, the menu taps into traditional Irish favorites like Corned Beef Sliders with Hooleykraut and Irish Potato Leek Soup and elevates American classics like the Hooley Grilled Cheese. Pairing perfectly, the bar offers vintage and contemporary cocktails, and an impressive array of craft beers.
"We worked really hard to capture the essence of our favorite Irish pubs while providing something refreshing yet familiar to neighbors and visitors of the District," said Ryan Haverty, owner of KC Hooley House.
The pub will feature a large dining area where local and regional acts will perform. The venue will also have a second bar and lounge area that will feature a unique small plate menu with an extensive and entertaining craft cocktail experience, giving guests two completely different concepts to enjoy under one roof.
Three local Kansas City entrepreneurs joined forces to bring KC Hooley House to life. Ryan Haverty, Ryan Weekley and James Eddy teamed up to turn this dream into a reality.
"The KC Hooley House team has put their hearts into bringing their vision for a modern twist on the classic Irish pub to downtown," said John Moncke, president of Power & Light District. "We're proud of the work they have done, and we look forward to helping another local business thrive in the heart of our hometown."
Following exceptional momentum from Super Bowl LVII and March Basketball, the District continues to ramp up with the NFL Draft on the horizon. To learn more about the latest at Kansas City Power & Light District, visit powerandlightdistrict.com.