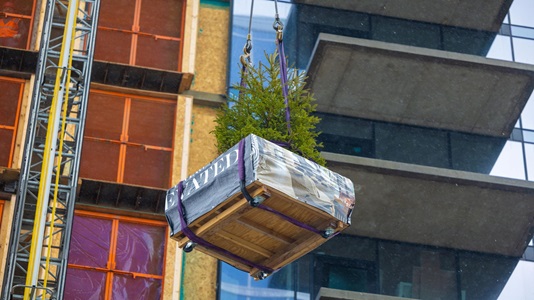 Three Light Reaches the Top!
KANSAS CITY, Mo. (March 21, 2023) – As it nears completion, Three Light Luxury Apartments in the Power & Light District celebrated the pouring of the building's last column with a ceremonial Topping Out event held near the project site in the heart of downtown Kansas City. Executives from The Cordish Companies and the Power & Light District were joined by distinguished guests from the city, community and business leaders, and executives and team members from JE Dunn Construction Company to celebrate this exciting milestone.
"The topping out of Three Light is a great opportunity for us to share our appreciation of the hard and skillful work of the JE Dunn team and look forward to opening this truly special building later this year," said John Moncke, president of the Kansas City Power & Light District. "Three Light is a sign of continued growth and positive energy in downtown Kansas City. We will welcome hundreds of additional new residents to the Power & Light District when the building opens this year, bringing the total number of new apartment homes in the District to nearly 1,000 since One Light opened a few short years ago. For the past 15 years we've invested in building a world-class community here in Kansas City, and continue our commitment to expand our residential offerings, retail tenants, and entertainment options in the Power & Light District in the years to come."
"We are excited to see yet another high-rise residential tower reach its peak in the core of downtown Kansas City," said Brian Platt, City Manager of Kansas City, MO. "We look forward to the hundreds of new residents and additional activity and energy this project will bring."
Three Light is a landmark tower of gleaming glass that provides panoramic views of the Kansas City skyline, the neighboring Crossroads Arts District, and its own setting in the Power & Light District. The building celebrates Kansas City's vibrant musical heritage and its dynamic present day, honoring the city's rich musical legacy with visual salutes to Kansas City jazz legends Count Basie and Charlie "Bird" Parker. Murals pay tribute to Basie and Bird, with a white-to-black gradient that evokes Basie's piano keys, while brass tones conjure Parker's saxophone.
"Three Light's character will be enhanced by honoring Kansas City's long-standing jazz heritage through art and interior design," said Marnie Sauls, Executive Director of Residential Management for Cordish Living. "The mural featuring Kansas City jazz legends, Count Basie and Charlie 'Bird' Parker, will be replicated on the side of the building by acclaimed Kansas City-based artist, Alexander Austin." Austin also completed two major murals on the exterior of Two Light that pay special tribute to great people and moments in Kansas City's history.
Located at the corner of Truman Road and Main Street, the new 25-story building sits directly on the KC Streetcar Line across the street from the forthcoming South Loop Link Park over I-670. Three Light will include a seven-story parking garage with 472 spaces, as well as 7,600 square feet of ground level retail space. Spacious studio apartments, one- and two-bedroom units, and designer penthouse apartment homes will offer a variety of floor plans across 19 floors. Apartment amenities include:
Floor-to-Ceiling Windows with Inspiring City Views

Gourmet Kitchens

Premium Stainless-Steel Appliances

Luxury Quartz Countertops

Finishes Typical of High-End Condominiums

Full-Size Washer and Dryer in Every Residence

Private Balconies in Select Residences
Three Light will feature more than 30,000 square feet of resort-style amenity space and expertly curated concierge services to create a signature luxury apartment living experience including:
Expansive 8th Floor Outdoor Terrace Featuring an Infinity-Edge Pool Overlooking 14th Street

Club Room Featuring a Full-Service Resident Bar and Fireplace

Indoor-Outdoor Party Room

Demonstration and Entertainment Kitchen

State-of-the-Art Jazz-Inspired Theatre Room Experience

Game Room Featuring Plush Seating, Cozy Fireplaces, a Billiards Table, and Multiple Televisions to Entertain or Relax

Business Center and Conference Room

A Variety of Coworking Spaces

Fitness Center

Controlled-Access Building, Including Parking Garage

Valet Dry Cleaning and Laundry Services

Dog Washing Station

Infrared Sauna

24-Hour Lobby Attendant and Personal Concierge Services Including VIP Access to Events and Venues in the Power & Light District and Around Kansas City
"It's extremely exciting to be celebrating this milestone today and move one step closer to our opening this fall," said Emelyna Aurich, Director of Property Management for Cordish Living. "Three Light will mirror the quality and community our residents One Light and Two Light love, but with its own style and uniqueness. We have spent a tremendous amount of time curating every detail of this building – from the design to the over 30,000 square feet of amenity space the building will offer."
"Three Light's topping out is a major project milestone that JE Dunn could not have accomplished without our partnerships from The Cordish Companies, our trade partners, and most importantly the individual 785 tradesmen and women who show up every morning and work hard," stated Jim Coulter, Vice President of JE Dunn Construction.
Three Light is leasing with incredible momentum ahead of its fall opening with nearly 20% of the units already leased. To schedule a tour of a model apartment, please visit www.threelightkc.com, email info@threelightkc.com or call 816-472-0003.