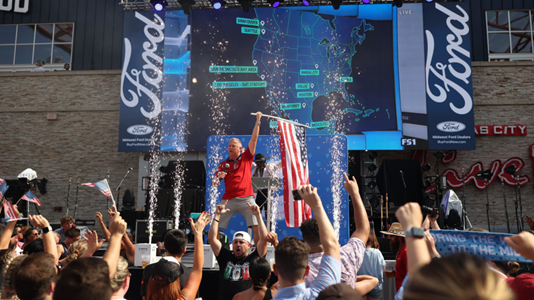 KC GOT the World Cup.
It was announced on June 16th, 2022 that Kansas City, Missouri would be a host for the 2026 FIFA World Cup. People from all around the metro area gathered together to celebrate this once in a life-time victory. Hosting the FIFA World Cup is ideal for any city. This is an important victory for the KC area because it allows for a greater deal of tourism. People will be traveling to the heart of KC from all over the world, giving the upper-hand for our economy to be boosted. The Vice President of the FIFA World Cup, Victor Montagliani, describes KC as being the "Gold Cup." He uses the metaphor of us being a gold cup because of our hospitality, our love for soccer, and the investment within our community.
The very first FIFA World Cup took place in 1930. This major event takes place every four years in hopes of preparation for players, teams, and giving their host country enough time to plan for a wide range of fans visiting. On the same day of the announcement, FIFA representatives visited a handful of places around the KC Metro area in order to see if they would be reasonable enough for a game to be played, one in particular, the GEHA Field at Arrowhead Stadium. It was determined that once KC was selected as being a host city, the field would be required to be widened, along with requiring that some seats be temporarily removed at the corner of the fields to accommodate FIFA specifications.
Throughout all of the excitement, Kansas City is eager to welcome the 2026 new year in hopes of this being a starting point for more great opportunities. According to the Kansas City Missouri, Mayor Quinton Lucas says "the World Cup will bring jobs to our residents, will generate hundreds of millions of dollars for our region, and will illustrate on a global stage what we've known for some time: Kansas City is the soccer capital of America."
Author:
Calista Shafer
Intern, Power & Light District
For more information visit Kansas City Business Journal.